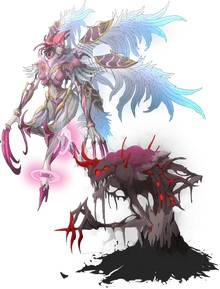 Greed are creatures that wander the labyrinths of the Other World, their true identities unknown. Coming in a variety of types, shapes, and sizes, they don't, however, grow and reproduce like normal living creatures; they are instead believed to be extradimensional spirits, possibly the creation of someone. Normal weapons from the real world are ineffective against them; only Soul Devices can hurt them.
The more powerful forms of the creatures are called Elder Greed.
Ad blocker interference detected!
Wikia is a free-to-use site that makes money from advertising. We have a modified experience for viewers using ad blockers

Wikia is not accessible if you've made further modifications. Remove the custom ad blocker rule(s) and the page will load as expected.